The Big "A" in America's Health Crisis — Arthritis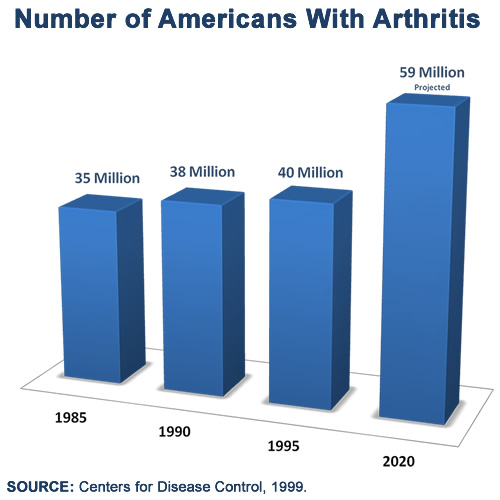 Arthritis takes on many different forms and severities and has been detrimental to the lively hood of America. In fact it requires more disability then any other ailment except for heart diseases. In 1985, 35 million individuals were diagnosed with some form of arthritis, projections show that by 2020, 60 million Americans will suffer from arthritis.
The Physical Toll
Chronic pain from arthritic conditions can be very difficult to live with. The loss of function in the joints and the basic overall discomfort can lead to depression and difficulties with self image. The potential loss of independence can be a terrible thought, and thus many people turn to any number of medications that are said to relieve the pain. This can lead to secondary conditions. While everyone is at risk for a secondary condition caused by medications, those with lupus and other potentially destructive diseases are at an increased risk.
The Economic Toll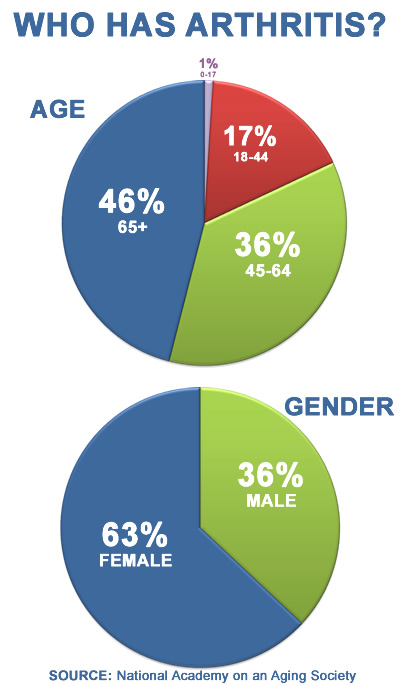 As the age of sufferers gets younger, the long term financial toll may prove to be too great. Two thirds of the affected population is under the age of retirement. A strong percentage is found in women, especially women in their thirties.
With almost 25% of women struggling with arthritic conditions, the potential for serious financial impact is huge. More women are found to be the head of the household in single parent homes than men. More women are still underpaid. Women also tend to have a longer life expectancy.
Once the personal financial impact is understood, it is also important to see the potential for governmental financial disaster can be just as great. With more people in their twenties and thirties struggling with symptoms, the increase in disability claims prior to the age of 45 will take a toll on the available funds. It is important to recognize that the financial toll doesn't stop at disability. It also extends to rising medical costs associated with management of pain and other symptoms. Even just subsidizing the cost of medicine for pain management can easily help drain the governmental resources.
Risk Factors
Overweight individuals tend to have more damage to their bones and have faster rates of destruction than those who carry a normal body weight. Weight loss is a necessary aspect of pain management. Working with a holistic nutritionists or weight loss professional can be the fastest way to ensure the eventual weight loss which can ease the strain on the bones.
Smoking is another risk factor. Bone loss and smoking are interconnected. Smokers have a much higher risk for developing destructive conditions that lead to arthritic issues. It also speeds up the bone loss that naturally happens with age.
The NSAID Revolution
When NSAID painkillers were initially marketed they were heralded as a modern scientific miracle. Of course, that same miracle silently destroys lives just as quickly as it ends them. These are medications that are consistently purchased over the counter or prescribed by a physician that are consistently causing the deaths and hospitalization of users who unknowingly tried to relieve their pain with a life ending consequence. Consistent use of these medications causes gastrointestinal distress, including the destruction of the stomach lining and internal bleeding.
---
Author Information: RTPR.com
For more visit Christina Anthony's Blog at http://rtpr.com/manage/blog/1400
Editor's Note — PainKillerAwareness.org is committed to sharing information we have gathered through extensive analysis of research studies, credible media sources and statistics. Our goal is to provide readers with the information that we gather along with the corresponding source. This will allow our readers to make intelligent and informed decisions about the painkillers they choose to consume. This particular blog post/article is an ongoing article that will have new information added to it as it is discovered or released.  If our readers have important information that is not in this article, we would appreciate it if you would share the information and source with us through our contact page.
————————————-